Top 5 Interior Design Ideas On A Budget
Most homeowners we work with don't have the budgets that large casinos do, so we are  most often asked what are some of the best home decorating changes they can make on a budget. So we figured we would share our best interior decorating ideas that you can do on a budget that will look great and not break the bank.
The First Step To A Fabulous New Interior – Have A Plan.
The reality is everything you do to redecorate or redesign your home should start with a plan. This plan is your key to success and absolutely instrumental for staying on budget. An interior decorating plan will allow you to "draw out" your ideas and attach a number to it. This way, you make your changes as you go in order to stay on budget. For example, you may want all natural wood blinds, but they put you way over budget. Instead, you can opt for faux wood blinds that are less expensive, and because they don't weigh as much, you don't need specialized hardware to install them. This saves you money on material and labor. In short, you need to break down each and every detail so that you you can analyze them and determine exactly what you need. Some of the elements you should consider are the furniture, the flooring, wall paint, wall decor, accessories, and lighting. If done right, you have made all your changes and adjustments before you've even spent a dime. Trust us, after 50 years of doing this we can tell you that nothing is more expensive that having to compromise and make changes after you have already started.
Interior Design Idea No. 1
Instead of going out and spending money on brand new items, try to reuse and repurpose what you already have. You would be surprised at what you can do with ordinary stuff that's probably already sitting in your garage. Case in point, old pieces of wood. Distressed wood can be a beautiful focal point of a room. You can make it as colorful as you want…
Or you can be subdued and rustic
And don't forget your existing furniture. You would be surprised what you can do with old furniture. Just take a look…
Interior Design Idea No. 2
Change your lighting. Believe it or not, lighting can make a huge difference in the look and feel of a room. For a warm, cozy atmosphere try indirect lighting.  Not only can changing the lighting in a room have a drastic effect on the look and feel of the room… it can even save you money. By changing to indirect lighting and high efficiency bulbs, not only do you get a great looking interior, you can also save money on your energy bills.
Interior Design Idea No. 3
A new coat of paint. This is probably the single biggest (and cheapest) change you can make to a room (next to lighting) that will have the large dramatic impact. Many times it's not even necessary to paint the whole room. You can just do one "accent" wall, and still have a huge dramatic effect.
Interior Design Idea No. 4
The flooring. This is one of the more expensive changes you can make, but it does have it's merits. In fact, just looking at the image above you can see how my just adding a simple rug over your exiting floor, you can make a dramatic change. In other cases you may want to change the flooring material all together. The choice is yours.
Interior Design Idea No. 5
Get some nice throw pillows. Whether it's for a sofa or for your bed, a classy set of throw pillows can make a huge difference and ad a degree of elegance to a room .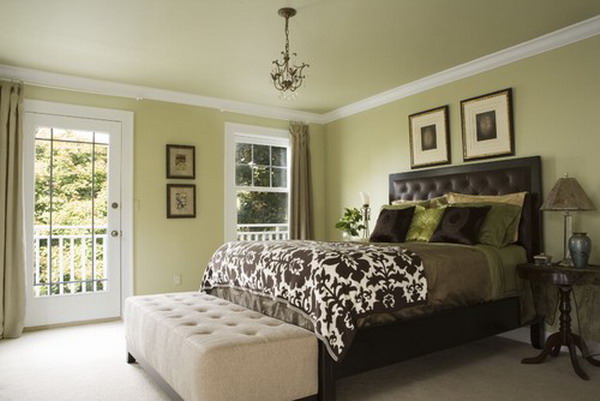 Tying it All Together
If you follow our simple and budget friendly ideas, you'll see what a dramatic difference you can make… for not a lot of money.